---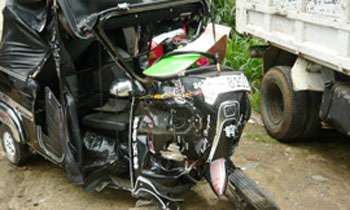 A 37-year old man was killed when a gully bowser willfully had crashed into a three-wheeler at Gorakapola in Panadura yesterday, the Police said.
They said the driver of the gully bowser had rammed the bowser into the three-wheeler, which had been parked by the road due to a personnel dispute.
The victim, Rasika Priyashantha, a resident of Panadura, was inside the three-wheeler when the incident occurred, they said.
He was admitted to the Panadura Hospital where he succumbed to his injuries.
Initial investigation revealed that both victim and the suspect had been working as drivers in the same company and had fisticuffs with each other following a dispute on Saturday morning.
The Police said that they believed the assault was carried out as a result of the argument.
The driver of the bowser had fled the scene after the accident and the Panadura North Police are investigating.