---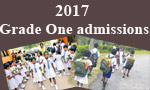 Applications, for admissions to Grade One in the Government schools for 2017, have been called today by the Education Ministry.

The circular on admissions will be published on newspapers tomorrow. It can also be obtained from www.moe.gov.lk, an education Ministry official said.

He said that accordingly, the prepared applications forms are required to be sent via mail to the relevant school principals before June 30.