---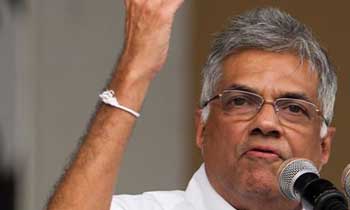 Prime Minister Ranil Wickremesinghe speaking at a public function in Hatton today said this government would not protect thieves, and would remove them, but stressed that there should be room for a transparent investigation.
"Today there are so many investigations that ministers are brought before the Attorney General and are questioned. Was there a situation as such before? Those days, the Attorney General was an acolyte of the president. The Attorney General who questioned was removed from the department or else taken in a white van. Now there is room to question anyone. This government will not protect thieves. If anyone found committing frauds, we will act according to probe reports. The UNP is not a party of thieves. If there are thieves in the party we will remove them. Allow us to carry out a transparent and public investigation. The media in Sri Lanka don't have an ethical right to say that such and such things have happened. Why is that? They covered up corruption of the previous government. They all went shopping "kade". Divaina, Ada, Lankadeepa, Dinamina, Silumina all went 'kade'. Tell me who did not do it.
*Allow a transparent investigation
*Says media does not have an ethical right to talk about what happens now
*Says Daily Mirror wanted to him to resign from UNP leader post as he spoke about the loss of SriLankan Airlines, Hambantota Port
Lasantha Wickramatunga was trying to reveal corruption but he was killed. What happened to Eknaligoda? He also revealed about corruption and was abducted and killed. What are they (media institutions) saying now? Not to investigate on the killings of journalists now? When we try to conduct investigations on these and frauds they say it is a threat to security. They are attacking us when we conduct investigation on corruption. We got voted in because people wanted good governance. What the professionals, government servants and the average citizens of the country want is just and free society without corruption. If we do not do it we will not get votes next time. Also we do not want the votes of thieves. We will do everything which we can do to give what people want. Do not have a doubt about that. We will not shout about what we do. I have named some media institutions today. I can also name those who are in them but will not do it now. We have now established an open society today. If someone robs he will get caught. Now see investigations are carried out even against the family of President Donald Trump. If someone does wrong he will get punished.
"I discussed with Minister Kabir Hashim about the losses incurred by Srilankan Airlines. The Airline was running at a loss. The Rajapaksa regime had bought eight A332 planes. Those luxury planes can fly at a stretch to Chicago in the US. However Srilankan only fly up to London. These planes could fly double the distance. What are we to do about these planes which have been purchased in such an irregular manner? The country has suffered a loss of RS 135 billion as a result. The country had also lost Rs 46billion on the Hambantota Port project. The total loss of these two is Rs 181 billion. What did Lankadeepa do when these losses happened? What did Daily Mirror do? Daily Mirror newspaper asked me to resign from the party leadership when I revealed losses happened during the last regime.
The Prime Minister Ranil Wickremesinghe said the government had created an open society, and therefore anyone, indulging in fraud activities would get exposed.
He said, "I am happy to launch bus service between Batticaloa and Hatton. It is an important step facilitating the movement of students who are from this area and study at the Eastern University in Batticaloa. I am grateful for conducting religious ceremonies at Buddhist temples, Mosques, Kovils to shower blessing on me marking my 40th year in politics. It is a pleasure for me to see all of you assembled here. Today, there is freedom of movement for you. We all got together and ensured the victory of President Maithripala Sirisena to achieve this. We have not had such a political era before. Freedom was confined only to a few. There is no need to talk about it. Today, people can live and move without any fear. There is no racism or religious fanaticism. We have to resolve our problems and forge ahead. We have set up Independent Commissions. Parliament is being empowered further. Parliamentary committees have been given more and more authority to summon any official for testifying. If any Minister does not attend to your problems, it can be complained to these committees. Did we ever have such a free society before?
He said," Let alone, we are proceeding with investigations into corruption. Nobody can be allowed to do corruption. The police have filed cases regarding some cases. We are seeking legal advice on some cases. If there are cases, we have to probe. There was an allegation regarding the bond transaction. First, I appointed an interim committee comprising lawyers. Then, it was referred to the COPE. Though we won the election, we gave the COPE chairmanship to an opposition MP. It was open to all. Afterwards, the President appointed a Presidential Commission.
Today, the Attorney General summons Ministers and questions them. At that time, the Attorney General was a yes-man of the President. I will tell one thing. We will not cover up fraudsters in the government. This is not a party of fraudsters. If there is any, we will expel him. Yet, let us have a transparent probe!
It is like in America. There are so many investigations against President Trump by the media, Congress and so on. Upon receipt of reports, wrongdoers step down. It is same in England. (Yohan Perera)