---
Prime Minister Ranil Wickremesinghe yesterday said that he and President Maithripala Sirisena will have to go slow when bringing about political reforms and should achieve it through an ongoing dialogue.
The Prime Minister made this remark at a programme held to mark the centenary of the Russian revolution in Colombo last evening.
"The late Prime Minister D S Senanayake once said 'let's go slow' when the socialist leaders of this country wanted to go on a fast track in bringing political reforms after independence. Likewise we too have to go slow on time and go on a fast track whenever it is needed. The dialogue among all political parties has to continue or else there would be dictatorship in the future," he said.
"Sri Lanka too created a revolution like Russia. First one was in November 2014 where we fielded Maithripala Sirisena as our Presidential candidate. The second revolution was where the two main political parties got together. These two revolutions have to be taken forward. We will follow the USSR when doing it," he added.
The Prime Minister was responding to Political Scientist and Constitution Export Professor Jayadeva Uyangoda who said in his key note address at the event that the process of political reforms is going off the track and the two leaders should share the responsibility of implementing reforms and also the credit after doing so. He also stated that people should be given the opportunity to decide on reforms in the form of a referendum if the constitution assembly cannot do it.
Commenting on the October Revolution in Russia in 1917 he stated that one has to accept that the Russian Revolution changed the world. The Communist Party in USSR could not change and socialism fell but China changed and socialism still prevails there. The important factor here is changing with the time and circumstance," the Prime Minister further said. (Yohan Perera)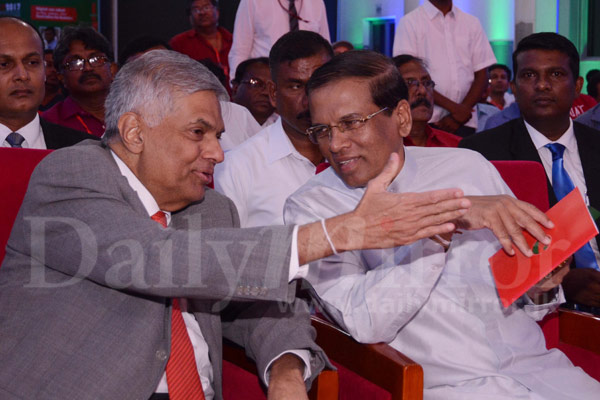 Pic by Pradeep Pathirana