---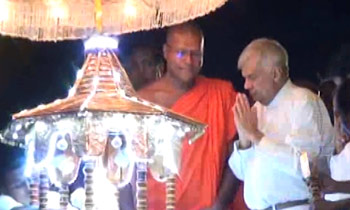 The government will not stop providing elephants for Peraheras , Prime Minister Ranil Wickremesinghe said today.
Speaking during the final day's opening of the annual Nawam Perahera of the Hunupitiya Gangararama Temple last evening, the Premier said President Maithirpala Sirisena and other relevant parties have discussed and decided on steps that should be taken to resolve the issues.
"Anyway the government will not stop providing elephants to Peraheras and has decided on safeguarding species which is becoming extinct speedily. Elephants are becoming extinct with the deforestation and urbanization," he said
"There are many other issues such as illegal buying and selling of elephants," he added.
Further he said the government intended to expand the Pinnawala Elephant orphanage.
"The government will soon reveal more details about steps it intends taking in resolving issues pertaining to illegal rearing of elephants and providing animals for Peraheras", the Prime Minister further said.
The Prime Minister lauded the Chief Incumbent of Gangaramaya Temple Ven. Galboda Gnanissara Thera for organizing the Perahera which he said is a daunting task given the situation in the society. "It is a difficult task to find traditional dancers and others for the Perahera but the Venerable Thera had used his skills to find everything that is needed for the event," he said.
Venerable Kirinde Assaji Thera announced that the Chief Incumbent of Gangaramaya will soon launch a programme to bring down a variety of paddy that can be cultivated with minimum amount of water to face the ongoing drought. (Yohan Perera)
Video by Danushka