---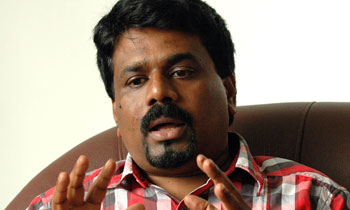 JVP leader Anura Kumara Dissanayake said today the government had been unable to implement the law against those who incited religious and racial disharmony and urged the government to ensure that such incidents would not happen in the future.
He said if the government did not intervene to control these incidents, people would be compelled to take the law into their hands.
Mr. Dissanayake said there were attempts to provoke racial disharmony between Muslims and Sinhalese by extremist elements and that racism in any form was an obstruction to communal harmony. He said the government had created an environment conducive for communal clashes.
"The government has not taken any action against those involved in attacking Muslim religious places and no one has been arrested so far," he said and added that a majority of Sinhalese and Muslims were against extremism. (Ajith Siriwardana)