---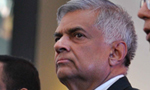 The government will introduce a new change in the education system by May this year, Prime Minister Ranil Wickremesinghe said yesterday.
Speaking during the opening of Royal MAS Arena at Royal College Colombo, the Premier said a new "Post school education" programme would be introduced under this new system of education. Accordingly he said this programme would be carried out by schools to prepare students for higher education.
The Premier said he had discussed the new system of education with the subject minister and other stakeholders.
The system of education, he said would be one where the central government and the provincial council could work together. Further he assured that proper officers would be recruited to the ministry of education and the institutions that comes under it. He further assured that the government would allocate six percent of the GDP for education as promised.
"We had an education system which provides opportunities for all the children but we have lost it and we have to reintroduce such a system again. There are conservative people who may shout against it but we will have to go-ahead with the education reforms " he said.
He stressed the need for providing state of art facilities such as Roya MAS arena modern sports complex to all schools in the country.(Yohan Perera)