---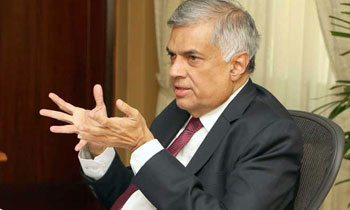 The Government will soon introduce its economic agenda for the next few years, Prime Minister Ranil Wickremesinghe said yesterday.
He said this at a ceremony organized by the Ministry of Public Administration to distribute appointment letters to state sector management assistants at Temple Trees. The Prime Minister said the main objective of this economic agenda would be to convert Sri Lanka into a high income earning country by 2031.
He said the economic agenda would bring about reorganisation, and will be introduced with the consent of President Maithripala Sirisena. The Prime Minister said in 30 years from now none of the government offices would have any files because all data would be available either on the mobile phone or on a small machine such as a tab.
He said the 'cash board' system which is now implemented in Andhra Pradesh India would be available in Sri Lanka as well, and enable anyone to view the income and expenditure of every government office through a mobile or a similar electronic device.
"We will have to decide what the government's role would be and the functions to be performed by the government in partnership with the private sector. No development could be achieved if the government controls everything," he said.
The Prime Minister referred to the need for change in the rural economy. "Many of the state workers are not from the town but from rural areas. We have to develop and modernize the agriculture sector. Government does not have sufficient funds to do it, and neither does the private sector. Therefore we need foreign investments," he said.
The Prime Minister said even China allowed foreign investors initially when its economy was opened up. "China initially opened up its economy for foreign investors. Then the local entrepreneurs started emerging during the second decade. During the third decade the local entrepreneurs dominated the economic scene," he said adding that Sri Lanka should also implement the same system.
"One cannot develop this country with outdated ideas," the Premier said.
The Prime Minister said the government would prepare a policy to take the country forward and would not change with a change of regime. "National policies of countries do not change with the change of regimes. The policies in Britain did not change when Prime Minister David Cameron took over from Gordon Brown or when Theresa May took over from Cameron, and US polices will also not change when Trump takes over from Obama," he said.
Public Administration Minister Ranjith Madduma Bandara said salaries of public servants would be increased by two-fold in 2020, and also that the government would introduce a contributory pension scheme shortly. "Sri Lanka will convert its pension scheme to a contributory scheme like in India, Japan and several other countries," he said. (Yohan Perera)