---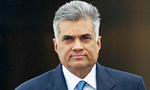 The Government has decided to expedite the signing of the proposed Economic and Technology Cooperation Agreement (ECTA) with India in the wake of the decision by Britain to exit the European Union (EU), sources from the premier's office said yesterday.
They said this decision was taken after Prime Minister Ranil Wickremesinghe met leading business magnates soon after he returned from Galle last evening.
Sources said the business magnates had suggested that the signing of ECTA with India would be advantageous because Sri Lanka's exports to Britain amounting to some 40 per cent of country's total exports to Europe was uncertain given the new situation in Europe.
According to reports, Sri Lankan officials including the prime ministerial adviser R. Paskaralingam will visit India to join External Trade Minister Malik Samarawickrama, who is already in Delhi so as to negotiate with India and fast track the signing of the agreement.
Sources said Sri Lanka would also explore the possibility of signing trade agreements with countries such as Bangladesh and Myanmar. (Yohan Perera)