---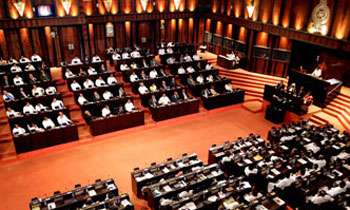 Government today presented a supplementary estimate for Rs.2.5 billion to improve skills, to provide salary subsidies to ex-LTTE combatants and for empowerment of women in the North.
Approval was sought to spend Rs.2,531,500,000 to improve the skills of ex-LTTE combatants, war widows, renovation of a Purana Raja Maha Vihara and other places of archaeological value in the North, address the needs of differently-able women in the North, to support the indebted people in the North and to support selected small industries in the same province.
Approval was also sought to spend Rs.2 billion for the resettlement of Muslim IDPs and to expedite reconstruction work in the Mannar Town. The source of funds for this expenditure would be the Ministry of Industry and Commerce.
Approval was also sought to spend Rs.40 million to purchase a vehicle for the newly-appointed Deputy Minister of National Co-Existence, Dialogue and Official Languages Alizahir Mowlana and funds to pay compensation to those affected by natural disasters.(Yohan Perera and Ajith Siriwardana)