---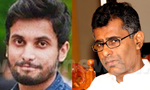 The government should send Sandeep Sampath Gunawardena, the victim of the hit and run accident allegedly involving Megapolis and Western Development Minister Champika Ranawaka, overseas for further treatment, MP Udaya Gammanpila said.
Sandeep Sampath was hit by a jeep allegedly driven by the Minister in Rajagiriya is now being treated in the Intensive Care Unit of the National Hospital.
Speaking at a media briefing MP Gammanpila, once the Ranawaka's right hand man, said the government should provide the victim with the best possible treatment to save the reputation of the government.
"It will be not good for the Minister, who played a main role in establishing the government, if he was to die. Therefore they should make every effort to provide him with the best possible treatment," he said.
The MP questioned why Sandeep could not be sent abroad for treatment like Health Minister Dr. Rajitha Senarathne and Late Ven. Maduluwawe Sobitha Thera, who were flown to Singapore for further treatment.
"Sandeep Sampath re-gained consciousness yesterday five days after the accident. Yet, he can't open his eyes and he can't speak. The government should intervene, the MP said.
"His friends, who witnessed the accident, said they were being asked by people to meet the minister. They should not try to influence the witnesses in such a manner. We are doing what we can for them as they sought our assistance claiming their lives were at risk. We should be glad the youths have come forward against the injustice meted out to their friend by this powerful Minister," the parliamentarian said.
Refuting claims that 1000cc motorbikes could not be ridden in Sri Lanka, Gammampila said such motorbikes, including Sandeep's had been registered with the relevant authorities.
He stated the police had also not done their job properly in recording statements from the eyewitnesses and that they hoped to meet the IGP and the National Police Commission (NPC) with regard to the matter. (Piyumi Fonseka)