---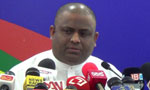 The United National Party (UNP) and Finance Minister Ravi Karunanayake should take responsibility on taking the country forward, while boosting the country's economy, without cracking jokes on loan repayment, Tourism Development and Christian Religious Affairs Deputy Minister Arundika Fernando said today.
"We have discussed the development issues in the country during a meeting, which held yesterday. The Government should take the country economically forward strongly," the Minister said.
"As a main point developing the tourism industry can help boost the country's economy easily," he said.
"Our Ministry had already identified the locations around the country that can be used to boost the tourism industry.
"All the attractive places including religious, historical and cultural valued places had been identified as the initial step in each and every Provincial Secretariat," he said.
"We have discussed with President Maithripala Sirisena to make necessary arrangements to provide all necessary permits to investors under one roof," he said.
"An agreement had been signed with India and Sri Lanka to boost the tourism industry of both the countries, while promoting both countries' historical, religious and cultural land marks.
"A collective agreement would be signed among tourism industry bodies in various countries and to conduct awareness programmes for foreign tourists," the Minister added.
He said that a separate Tourism Development Authority would be established, and Kalpity, the Jaffna and the Mannar islands would come under the Authority.
"We hope to impose separate rules and regulations to those islands in the development of the tourism industry," he noted.
"We should give a chance to this Government for a certain period. There can be some issues. If the Government cannot move, we have to look for alternative ways," the Minister said. (Chaturanga Pradeep)
Video by Chaturanga Pradeep