---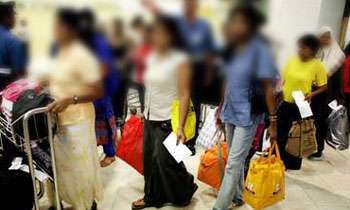 The government said yesterday no contraceptives were administered to Lankan female migrant workers and added that only a medical check-up would be conducted prior to leaving the country.
'The Guardian' reported yesterday that Lankan women who take up domestic work in the Middle East to support families were being targeted by recruiting agents who order them to take contraceptives before leaving and six recruiters licensed by the government had said they could provide an employer with a "three-month guarantee" that a maid would not become pregnant.
Speaking to the Daily Mirror Foreign Employment Deputy Minister Manusha Nanayakkara rejected these allegations.
"If a woman was found pregnant following a medical check-up, she would not be permitted to go abroad for employment. However, the Ministry would inquire into the said allegations," he said.
The Sri Lanka Bureau of Foreign Employment (SLBFE) said they had not given any instruction to administer contraceptives for Lankan female migrant workers and added that there was no such requirement to be fulfilled by them to obtain employment overseas.
SLBFE Internal Affairs Additional General Manager W.M.V. Wansekara said they had not been informed of such incidents so far.
Meanwhile, the Association of Licensed Foreign Employment Agencies (ALFEA) said those allegations were baseless.
ALFEA President A.L.A. Hazzam said it was unethical to administer such contraceptive medication to Lankan female migrant workers and added there were no such mandatory requirements to fulfill.
"Prior to travelling overseas for employment, there is a medical check-up to ensure that female recruits are not pregnant," he added. (Kalathma Jayawardhane)