---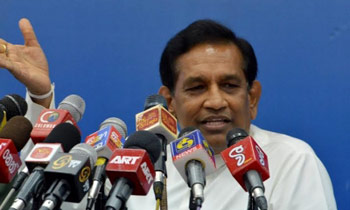 Cabinet Spokesman and Health Minister, Rajitha Senaratne said today a warrant has been issued for the arrest of Bodu Bala Sena leader Galagodatte Gnanasara Thera and CID detectives have been deployed to take him into custody over allegations of inciting religious and racial hatred.
Responding to a journalist at yesterday's weekly news briefing, he said it would be a difficult task for the police to arrest him if he was being protected by a minister.
Journalist: There are media reports that he is being protected by a minister.
Spokesman: Possible. That is why the police have been unable to arrest him. Sri Lanka is not such a big country nor were there so many hiding places for him to hide.
Journalist: Why only Gnanasara Thera. Why don't the police arrest Tamil and Muslim racists?
Minister: He has been directed to appear in Court to answer allegations made against him by the Police. His language is extremely insulting and he has called Muslims Thambiyas and Marakkalayas. He has also allegedly attempted to incite people against other ethnic groups. The Muslim and Tamil politicians have not done that but have demanded their rights. Talking about your rights or making a statement to that effect will not create divisions among people.
Journalist: Mosques have been attacked even after Gnanasara Thera has gone under ground. That means he is not responsible for the attacks.
Minister: True. But anyone who wants to prove his innocence can attack a mosque.
He said some Eastern Muslim MPs met him recently to complain about the attacks on Muslims and he will discuss the matter with them shortly and appraise the President and the Prime Minister on this matter. (Sandun A. Jayasekera)