---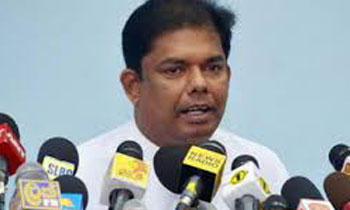 Some government MPs went out of the house during parliament proceedings recently was not in protest of the Speaker but to discuss about the continuous interruption by the Joint Opposition MPs in parliament proceedings, the Co-cabinet Spokesman and Media Minister Gayantha Karunatilleke said today.
"We did not walk out of the house. We just went out to discuss about the situation that had arisen in the house due to the continuous interruption by the Joint Opposition MPs," he said.
Minister Karunathilaka said an organised group had been spreading rumours targeting the Speaker to inconvenience him.
He told the weekly Cabinet briefing that a certain group in parliament was interrupting parliament proceedings and wasting time and money of the people, which was a serious matter.
"No one who value parliamentary democracy would act like this. This group interrupted parliament proceedings several times. But the Speaker only acted democratically," he said.
When asked whether the government MPs had proposed that the Speaker should be removed, Minister Karunathilaka said there had been no such proposal and added that there was no such need.
Minister Karunathilaka said it was proved that the Joint Opposition group even did not have the support of their members and its leaders.
Deputy Minister Sujeewa Senasinghe said there were some occasions where they could not agree on the Speaker's decisions but they never interrupted him or protested other than respecting his decisions. (Ajith Siriwardana)
Video by Samjeewa