---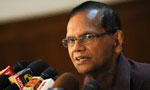 President Maithripala Sirisena has not been briefed on the contents of the UNHRC resolution on Sri Lanka and that is why he makes contradictory statements on it, former external affairs minister G.L. Peiris said.
He said the resolution co-sponsored by the US and Sri Lanka had clearly laid down the time frame for the investigation of war crimes charges and the involvement of foreign experts in the mechanism.

"However, President repeatedly denies the involvement of foreign expertise in a domestic mechanism and says the government can't rush the investigation. The sixth paragraph of the resolution clearly mentions the involvement of foreign judges," Mr. Peiris said.

He said the 18th paragraph states that a preliminary report of the investigation should be submitted to the UNHRC at its 32nd session in September this year and a full report to the 34th session in September next year.

Mr. Peiris said the President had also claimed that the government won't execute all the proposals imposed by other countries and that it would decide what is good for the country and then implement those proposals.

"We could have done that if the proposals were brought by some other country but this resolution was co-sponsored by Sri Lanka and the government requested all other countries at the UNHRC to pledge their support to the resolution. Then how can we say we will implement only a part of the proposals," he asked.

Mr. Peiris said the government had agreed through the seventh paragraph to abolish the Prevention of Terrorism Act (PTA) and to amend the Public Security Ordinance Act.

"President says no external forces will be allowed to intervene in our internal affairs but Prime Minister Ranil Wickremesinghe said the government was standing by the UNHRC resolution. The government has no single policy on the resolution," he said. (Lahiru Pothmulla)