---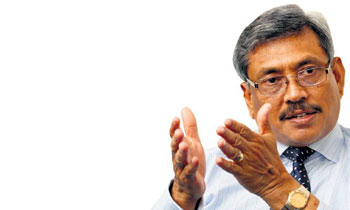 The government has invited the power struggle between China and India into the country by handing over national assets to these two countries, former Defence Secretary Gotabhaya Rajapaksa said.
He said the Hambantota Port was leased out to China by the government citing false reasons and India was offered the Mattala Airport afterwards.
"We had plans to make the port viable. After coming to power, this government stopped all projects for two years. Then, it leased out the Hambantota Port to China after creating a bogus debt trap. When India became nervous, the government offered them the Mattala Airport. Any upcoming government or leader will have to address this issue and overcome it," he told a Viyath Maga Seminar held in Kuliyapitiya on Wednesday.
He said the monopoly of the world economy was shifting towards the Asian Region and Sri Lanka should seize the opportunity to successfully face this economic transition.
"We should gear ourselves to seize the opportunity to develop the country and to uplift the economy of the people. We should not rely too heavily on our youth to generate an income working as labourers. The skills of our youth should be improved and for that, we need to change our education policy," he said.
Mr. Rajapaksa said those who are attempting to topple the government should have a backup plan ready on how to run the country afterwards.
"You can't simply defeat the government and then start thinking of policies and plans. We have to think about them now and make long-term and short-term plans to develop the country and to uplift the livelihoods of the people," he said. (Lahiru Pothmulla)