---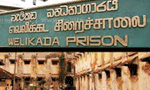 The Committee for Protecting the Rights of Prisoners yesterday charged that all hopes that justice would be served with regards the 'massacre' of 27 prisoners at the Welikada Prison on November 10, 2012 under the good-governance motto of the government, had faded as the government was allegedly having secret deals with those who are responsible for the deaths of these prisoners.
Speaking at a media conference held in Maradana, the committee's president, Attorney-at-Law Senaka Perera, said no individual has been arrested in connection with the prisoners' deaths despite investigations initiated by the CID, a Commission having been appointed by the former Minister of Rehabilitation and Prison Reforms Chandrasiri Gajadeera as well as an investigation by the Human Rights Commission of Sri Lanka (HRCSL) into the the incident.
He said the government had failed to address this issue because it is engaged in a futile attempt to defend the main culprit who was having day-dreams of becoming the next leader of the country. The "Yahapalana" government pledged to punish those who are behind the Welikada prison massacre only for political purposes. The fact that these murders had taken place in a well-planned and organized manner is not a secret anymore," he said.
Civil Activist and Anti-Corruption Front (ACF) Convener Rajitha Keerthi Thennakoon, who also spoke, said that despite there were various investigations announced by the present and previous governments as well as the Human Rights Commission of Sri Lanka, none of the reports had been published.
Sudesh Nandimal, a prisoner who witnessed the incident in 2012 but was not injured, alleged that they were informed by the Welikada Prison authorities that the order to shoot 27 prisoners was issued by the then Defence Secretary Gotabaya Rajapaksa.
The committee said they would soon file a Writ Petition in the Colombo High Court to urge the Prisons Ministry to publish the investigation report which had already been completed and handed over to the government, which he said was not being done because the government was trying to protect the culprits. (Piyumi Fonseka)