---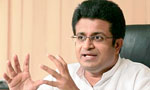 While claiming that 2017 would not be a prosperous year, Pivithuru Hela Urumaya (PHU) today charged the government had already planned to make 2017 the 'Year of Betrayal'.
Addressing a media briefing, PHU General Secretary MP Udaya Gammanpila said the people would have to face an unfortunate circumstance during this year with several actions of the government.
"As the first step of the 'Year of Betrayal' agenda, the government is willing to pass the new Constitution which is biased towards the Tamil separatism and Federalism. It would completely devastate the sovereignty of the country," he said.
He said the second move of the government was to sign the ECTA (Economic and Technology Agreement) between Sri Lanka and India in March. He said it would risk the stability of all occupations in the country.
He said the government had also planned to sell many of the national assets to foreign forces during this year.
"The government has planned to sell off 80 per cent of the Hambantota Harbour to a Chinese company while oil tank farms in Trincomalee to be sold out to India. " he said.
He also alleged the government had planned to sell the Eastern Terminal of the Colombo Harbour to the United States of America this year as another move of the government's 'Year of Betrayal' agenda.
"With the dawn of the new year, we all wish to receive the best. But hopelessly it would not be applicable during this year. In 2017, we all have to act selflessly and make commitments in order to save the country from the misery," he said. (Kalathma Jayawardhane)