---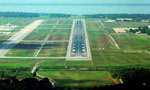 The government has found it impossible to acquire 15,000 acres of land at once in Hambantota or in the adjoining Districts for Chinese investments, it is learnt.
Initially, the Government planned to acquire 9000 acres from the Hambantota District for the port –integrated industrial zones, and another 6,000 acres from the Moneragala and other districts.
However, the government now found it practically difficult to acquire such a large extent of land for the projects, officials said.
Land survey work has also been stopped as a result.
The government initially planned to sign an agreement on January 7 with China Merchants Company to hand over an 80 percent stake of the Hambantota Port to it for development.
It reportedly hangs in the balance now due to differences of opinion among government leaders on the model for sharing equity between the Chinese company and the government.
The Sri Lanka Freedom Party (SLFP), it is learnt, is opposed to hand over an 80 percent stake. It proposed a percentage less than that for sharing equity, sources said. (Kelum Bandara)