---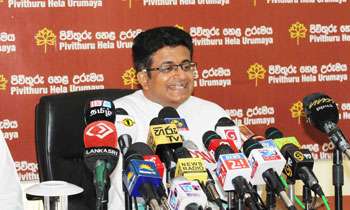 The Government's debt had increased by Rs. 836 bn following the depreciation of the Sri Lankan Rupee against the US Dollar during the past 40 months, Pivithuru Hela Urumaya (PHU) leader and MP Udaya Gammanpila said today.
Addressing a news briefing, he said although the government always complained that the Rajapaksa Administration caused a huge debt crisis, it was created not be anybody but the incumbent government.
"In 2014, the total government debt was Rs. 7.4 trillion. By the end of 2017, it has increased to Rs.10.3 trillion. The government should explain as to how its debt increased by 39% within such a short period without implementing any significant development project," Gammanpila said.
"When we handed over the government to the present leaders, the dollar was trading at Rs 131. It has now rocketed up to Rs 159. The total debt has been increased by Rs 836 billions during the last 40 months due to Rupee depreciation. If the government was able to save that amount, it would have built six ports similar to Hambantota Port," Gammanpila added.
Meanwhile, he accused that the government had been yet unable to generate 1 million job opportunities as pledged at numerous occasions.
"According to the Central Bank annual report, it was only 4,405 jobs that have been generated in the last year. But in the Rajapaksa government, we were able to generate 55,942 jobs in 2014. If this government thinks to generate 4,405 jobs per year, it will take 227 years to fulfill its goal of 1 million job opportunities," Gammanpila said. (Sheain Fernandopulle)