---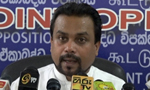 The Joint Opposition said today the Government was eventually compelled to go behind China for assistance to revive Sri Lanka's economy despite their vituperative anti-Chinese campaign in the pre-election period.
National Freedom Front (NFF) Leader MP Wimal Weerawansa said anti Chinese sentiments were whipped up at that time to send the previous government home.
"The Government has realised that its so called masters won't give a dime to them and therefore had turned towards China. The Government in the past said that Sri Lanka would become a colony of China at the rate that country is assisting us," he told a news conference held at the N. M. Perera Centre in Borella.
He said the Prime Minister Ranil Wickremesinghe had said at the end of his tour to China that the Colombo Port City would be developed as commercial hub and a land of acre 3,000 would be given to China to construct an industrial zone at Hambantota Port.
"All these project were launched by former President Mahinda Rajapaksa. Many alleged that the Hambantota Port was not commercially viable and there was a giant rock in the middle of it. Today, it had been proved otherwise," he said.
The MP said these actions only prove that the government had no proper strategic plan to develop the country and said that it had announced to launch a plan after the President Maithripala Sirisena returns from G7 Summit.
"For over a year, the government had run the country without a proper plan," he said. (Lahiru Pothmulla)