---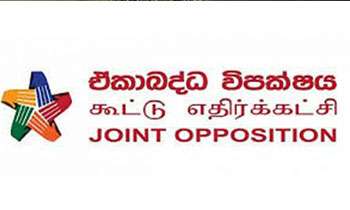 The joint opposition today charged that the government was frightened about the anti-government protest campaign scheduled for Wednesday and was attempting to sabotage it.
Joint opposition member MP Kanchana Wijesekera told a news conference that the Road Passenger Transport Authority had been ordered to restrict the issuance of temporary road permits for September 5, 6 and 7 in order to decrease the number of vehicles travelling in those days.
"The government is planning to prevent people from attending the protest campaign. This situation is reported from many areas across the country mainly in the Western Province," he said.
He said the government was also in an attempt to postpone the Parliamentary sessions scheduled to be held on September 4 and 5 in order to avoid the publication of the parliamentarians' comments made during the sessions on the joint opposition's protest campaign.
"It was reported that some party leaders had made a request to postpone Parliamentary sessions. We hope it will not happen," he added.
He said the joint opposition had also taken legal advice to proceed with the protest campaign if the government would take steps to sabotage it. He also said there was a possibility of getting the protest campaign extended to the following day (6) depending on the response of the government to their demands.
The 'Janabalaya Kolambata', anti-government protest campaign organized by the joint opposition is scheduled to be held on September 5 in Colombo at 2.00 pm and the venue of it will be announced on the day of protest. (Kalathma Jayawardhane)
Video by Susantha