---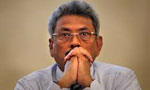 Former defence secretary Gotabaya Rajapaksa has been noticed to appear in the Special High Court -- set up to hear the cases connected to LTTE terrorist activities -- on May 3 by Commissioner Irangani Perera.
He has been asked to be present in Court to give evidence in the case filed against five LTTE suspects on charges of aiding and abetting a ex-LTTE suicide carder charged with attempting to kill Mr. Rajapaksa.
The Attorney General has filed the case against them on charges of conspiring with Balasingham Vijayakumara alias Anbumani in conniving with LTTE terrorist Anbumany to carry out the suicide bomb attack in which army personnel Priyantha Wijesiri, Piyasiri and Fernando were killed.
The accused are Ponnasamy Karthigesu Sivaji, Sivalingam Aruran, Padmanadan Aiar Sri Skandaraja Sharma, Chandrabos Selvachandran alia Michel and Leliah Thayalan alias Paramadevan.
After considering the request by Senior State Counsel Rohantha Abesuriya appearing for prosecution the Judge noticed the former defence secretary to appear in court. (Manopriya Gunasekera)