---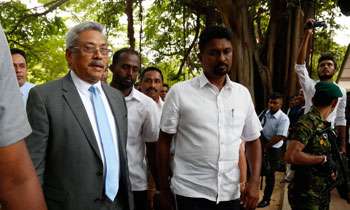 The Special High Court today granted bail to former Defence Secretary Gotabhaya Rajapaksa and six others over the case where they have allegedly misappropriated public funds for the construction of the D. A. Rajapaksa memorial museum at Weeraketiya.
Each suspect was released on a cash bail of Rs.100,000 and two sureties of Rs.1 million each.
The indictments were handed over to the suspects and the case was postponed to October 9.
The seven accused were indicted by the Attorney General at the HC Trial-at-Bar under the Public Property Act and the Penal Code on charges of abusing public property. (Farook Thajudeen)
Video by Prasanna