---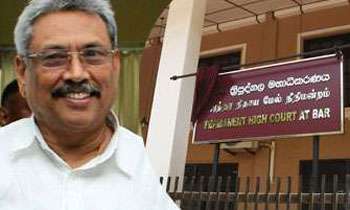 The Special High Court Trial-at-Bar Bench fixed for February 11 to deliver its order on the preliminary objections by the defence in the case against former defence secretary Gotabaya Rajapaksa and six others. The charges are the misappropriating of Rs.49 million belonging to the LRDC to construct the D.A. Rajapaksa Museum and Memorial at Medamulana.
The court made this decision at the end of the submissions by the defence and the prosecution.
At today's hearing, Deputy Solicitor General Deleepa Pieris said it had the jurisdiction to hear the case against Mr. Rajapaksa and six others.
He said this while objecting to the preliminary objections raised by defense counsel Romesh Silva PC on behalf of Mr. Rajapaksa and that the Special HC had no jurisdiction to hear the case under the Judicature (Amendment) Act.
DSG Pieris said the Special HC was set up to hear cases of serious financial crimes committed by misusing public funds and the Bill was passed in Parliament after careful scrutiny.
He said the chief justice and the attorney general had carefully studied the case against the suspects before the suspects were indicted in the Special HC.
DSG Deleepa Pieris said if this court has no authority to hear this high-profile financial fraud committed by the accused then what sort of financial fraud could it hear.
The DSC stressed that the defence had no status to raise the objection over the jurisdiction of the court.
Earlier Mr. Rajapaksa's Counsel, Romesh de Silva, said the Bill was proposed to establish the special high courts to try certain types of cases.
The Special High Court Trial-at-Bar Bench comprised of high court judges, Sampath Abeykoon (President), Sampath Wijeratna and Champa Janaki Rajaratne. (Shehan Chamika Silva and Farook Thajudeen)
Video by Prasanna