---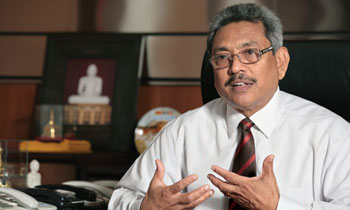 Former Defence Secretary Gothabaya Rajapaksa has rejected news reports published by AL Jazeera and AFP that he operated a death squad with the intention of silencing his critics.
On March 20, foreign news agencies reported that the Criminal Investigations Department (CID) had told the Mt. Lavinia Magistrate's Court that Mr. Rajapaksa led a top secret death squad, targeting journalists and dissidents.
The news report said the alleged unit was also accused of assassinating former Sunday Leader editor Lasantha Wickrematunge.
Sending a letter to AL Jazeera and AFP news through his lawyer on March 23, Mr. Rajapaksa had said the news was a blatant 'lie' because the Police Report did not refer to Mr. Rajapaksa per se.
"I have instructed by my client that in any event, no report whatsoever was read out in court implicating my client as mentioned in your news item," Counsel Sanath Wijewardane, the lawyer of Mr. Rajapaksa, said in this letter.
The letter said Mr. Sarath Fonseka, who gave a testimony in connection with the series of incidents, would attempt to divert the attention of the investigation and it was not possible to operate any Army unit and/or deployment without the sanction and/or approval of the Army Commander.
"In any event, my client, during the said time period was a civilian and had no direct links to operate any military or other deployment. Therefore, I'm instructed by my client to write to you demanding an immediate correction of the distorted and false publication carried out by you," the letter said.
Meanwhile, MP Udaya Gammanpila, who also released the letter to media during a news conference today, said legal action against such 'fake' news would be considered and taken in the event a correction was not made by the respective news publishers. (Lahiru Pothmulla)
Video by RM