---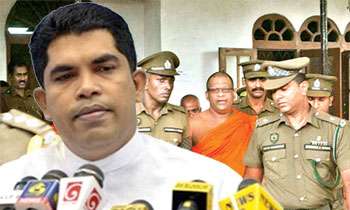 Ven. Galagoda Atte Gnanasara Thera will likely get a Presidential pardon on Independence Day, February 4 by President Maithripala Sitrisena along with hundreds of other prison inmates, SLFP politburo member and MP Shanta Bandara said today.
Mr. Bandara said President Sirisena was aware of the numerous requests made to him by the Maha Sangha and the civil society to grant Gnanasara Thera a Presidential pardon and added the SLFP would also be glad if the Thera was freed.
The firebrand Buddhist monk GnanasaraThera, known for his hardline approach to political, social and religious issues, was jailed on August 8 last year for six years of rigorous imprisonment after being found guilty of contempt of court over his conduct during a court hearing on the case of the missing journalist Prageeth Eknaligoda.
Ven.Gnanasara Thera, the Secretary General of the Bodu Bala Sena (BBS), was found guilty of four charges filed by the Attorney General's Department. He was convicted on four counts of contempt of court, receiving terms of four years each on the first and the second counts, six years on the third and five for the fourth, all to run concurrently. In 2016, Gnanasara Thero interrupted a court hearing over the abduction of the journalist Prageeth Eknaligoda, in which military intelligence officials were accused.
The monk, disagreeing with the proceedings of the Court, shouted at the presiding judge and lawyers as the accused military men were refused bail. The same day, he also threatened the wife of the missing journalist, Sandhya Eknaligoda. The action led to a court case being filed by Eknaligoda's wife where Gnanasara Thera was found guilty and sentenced to six month of rigorous imprisonment. The monk later appealed the case and was released on bail.
Through the Contempt of Court action, the Homagama Magistrate has sought the Appeal Court's jurisdiction to consider whether the alleged offensive behaviour of Gnanasara Thera inside the Court amounts to Contempt of Court. He sought Court's jurisdiction to take necessary legal action against Ven. Gnanasara Thera if the charges leveled against him amount to Contempt of Court. (Sandun A Jayasekera)