---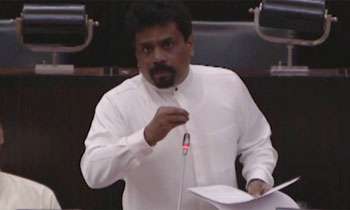 Transferring the Mattala International Airport to India was a threat to the national security and the sovereignty of the country as airports played an important part in domestic and international wars, Chief Opposition Whip and JVP leader Anura Kumara Dissanayake said today.
He told Parliament that transferring of the ownership of the airport just because it was a loss-making venture should be thoroughly considered.
"Issues with national interest should be considered than losses or economic benefits of the airport. An airport is important in military affairs in a country. It can pose more threat to national security and sovereignty of the country," he said.
Raising a question, Mr Dissanayake asked whether the Government would present the agreement in Parliament.
Civil Aviation Minister Nimal Siripala De Silva said discussions were in progress to develop Mattala Airport as a Joint Venture with India and that the Government would follow the due procedure before signing the agreement.
He said the agreement would be presented in Parliament before signing it and added that the ownership of the airport could not be transferred to a foreign country completely according to the Civil Aviation Act.
"If the airport is to be transferred to India completely, Civil Aviation Act should be amended in Parliament. Then anyone can object it and defeat it in Parliament," he said.
The Minister said the Government decided to develop the Mattala Airport as a Joint Venture due to its unbearable debt burden and losses and added that Indian Civil Aviation Authority offered to develop it.
"We called for open proposals from local and international businessmen. But only India submitted a feasible proposal," he said.
Mr De Silva said Joint Venture would be formed where 70 per cent of its shares would be bought by India while the other 30 per cent by the Government.
"Discussions were in progress by the Technical Evaluation Committee and a negotiating committee on matters regarding national security and the job security of employees of the airport.
"We have set pre-conditions before transferring the airport. This is only a business venture. We will not allow anyone to use it for any military activities. Its air navigation system is operated by Sri Lankan authorities and security also provided by the Air Force and local partners," he said.(Ajith Siriwardana and Yohan Perera)