---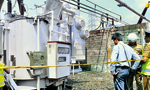 A team of German technicians are scheduled to arrive in Sri Lanka tomorrow (21) to investigate the two unusual explosions at the Biyagama Grid Sub Station and the Kotugoda CEB Grid Sub Station recently, the Power and Renewable Energy Ministry said.
Secretary to the Ministry Dr. Suren Batagoda said the transformers were manufactured in Germany and therefore the German team would investigate the unusual occurrence.
"They assured the transformers would not explode. The team is looking into whether it was a technical issue or sabotage," he said.
Earlier Dr. Batagoda said engineers were unable to determine the cause of the explosions. How, both transformers exploded in the same fashion amidst the security in the sub stations in Biyagama and Kotagoda was suspicious, he said.
An unusual explosion at the electricity transformer yard in Biyagama caused an island-wide blackout plunging the country into darkness last Sunday for eight hours.
Several days after the explosion at the Biyagama Grid Sub Station, another transformer at the Kotugoda CEB Grid Sub Station in Minuwangoda, has also exploded. (Darshana Sanjeewa)