---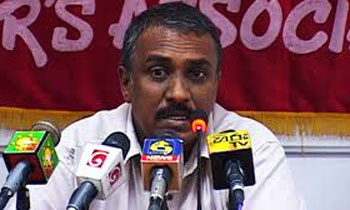 Lanka Private Bus Owners' Association (LPBOA) President Gemunu Wijeratne yesterday said he had requested the Finance Minister to include a clause to ban begging and selling goods inside buses and to add Rs.5,000 as fines when the Motor Traffic Act of 1951 is being amended to add seven traffic offences.
He said he had requested Minister Ravi Karunanayake to implement the rules to ban begging and doing businesses inside the buses, which causes inconveniences to the commuters.
"Many complaints had been received about harassment caused by beggars and sellers. Drug addicts collect their daily collection and some book sellers sell their books while pick pocketing the passengers," he said.
Since the Act had been implemented for 66 years, there had been no specific fine defined. Therefore, a request had been made to the Minister to charge a fine of minimum Rs.5,000 for begging and selling goods inside buses, he said.
Mr. Wijeratne said during the past government he had sent a letter to Gotabhaya Rajapaksa who was the then Secretary of Defence requesting assistance to ban begging and selling goods inside buses but to no avail. (Chaturanga Pradeep)