---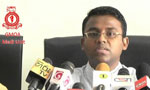 Government Medical Officers Association (GMOA) today charged that a gazette notification had been issued by the Cabinet to establish a specialised government body with powers exceeding the executive powers of the President and some more special provisions to facilitate the formulation of a National Policy on all subjects including Accelerated Economic Development.
GMOA Media Spokesman Dr. Samantha Ananda said the gazette notification was ordered to be published by Prime Minister Ranil Wickremesinghe and was issued on November 25 at the Cabinet.
He told a media briefing held today at GMOA Head Quarters that the board which would be managed by a government executive would not be accountable and responsible and the scope for legal action against the board was also restricted.
He warned that the government was trying to facilitate the related undertakings of the proposed Indo-Lanka Economic and Technological Cooperation Act (ETCA) through the board.
"Super authorising powers are vested on a single board and an individual who will handle it. This is not healthy for the other sectors of the government. Formulating a national policy is praiseworthy and that was first proposed by the GMOA to the government. However, there should be proper and accepted way of doing such things," he said.
According to the gazette notification, the board which would cover Economic Development Areas such as manufacturing, tourism, science and technology, logistics, business and service, high-tech fisheries and high-tech agriculture shall be in operation only for a period of three years from the appointed date.
An Agency for International Trade will also be appointed by the board which will work with objectives of promoting and developing international trade of Sri Lanka, facilitating the growth of exports of Sri Lankan products and services, particularly the agricultural and fisheries products, promoting Sri Lanka as a major trade, business and logistical hub of the Indian Ocean region and serving as the agency for the formulation, implementation and co-ordination of international trade of Sri Lanka. (Piyumi Fonseka)
Video by Danushka