---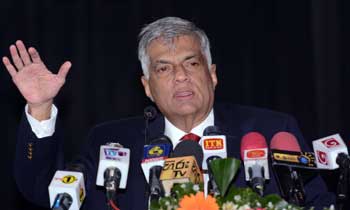 Prime Minister Ranil Wickremesinghe said today the government has put in place a well coordinated system to permanently resolve the garbage crisis which has hit Colombo as well as several other cities in the country.
He said this at the opening of the Colombo National Book Fair organized by the Public Library.
"Several cities including Kandy are facing a garbage crisis. The intention of the government is to implement a coordinated effort by all local government bodies, provincial councils, government ministers including the Megapolis Minister to resolve resolve this matter permanently," the Premier said.
"The main problem is to find land-fill sites. The garbage crisis cannot be solved with a proper disposal method. Colombo was a small town before 1977, the population was low, there was not much of garbage and not many industries. The quantity of garbage has gradually increased. Meetotumulla was originally selected as a dump in the early 1990s. The government in 1994 decided to stop dumping dumping garbage in Meetotumulla after a protest. Accordingly it was decided to use the dump at a site on Bloemendhal Road as a temporary solution but there were legal issues. Courts issued a stay order on dumping garbage at that site. The 2002 UNP government was was working out a permanent solution but could not finalise it because Parliament was dissolved. Later it was decided to use Meetotumulla again as a garbage dump once again."
He said the government had looked at a location in Puttalam to dump garbage and at several other places as a temporary measure.
"Courts issued stay orders against dumping in some places amid protests. CMC Workers were harassed. The permanent solution depends on identifying and resolving the main issue which gave rise to the crisis. The Megapolis Ministry has selected a suitable location to dump garbage at Puttalam. It is not possible just to dump garbage as it has to be managed. It will take two years to manage the disposal. This location could be used for ten years to do so," the Premier said. (Yohan Perera)
Video by Susantha