---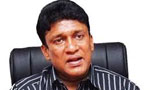 Tamil Progressive Alliance (TPA) Leader and Minister Mano Ganeshan today accused some government members of helping the joint opposition which is trying to sabotage the activities of the government.
He said ministers Dilan Perera and S.B. Dissanayake were siding with the joint opposition and helping the cause of the joint opposition.
"There is a reactionary group within the Sri Lanka Freedom Party (SLFP) who are not with President Maithripala Sirisena or with former president Mahinda Rajapaksa and are only helping the joint opposition.
"We have formed the national government not to play around but to settle the national issue permanently. The new constitution is not to divide but to unite the country. My friend minister Dilan Perera who is a member of the steering committee knows the mood of the committee," Mr. Ganeshan said said. "The constitutional proposals are being politically misinterpreted by JO members. It is Dilan Perera's duty to express the mood existing within constitutional making steering committee. But instead his behavior indirectly helps the JO agenda. A minority-friendly Dilan should realize that JO is trying to destroy the government by propagating lies about the proposed constitution. We of the TPA want both major parties together until the arrival of the new constitution. We can part ways later if necessary. SLFP can form a UPFA government. UNP can form a UNF government. Or we can go for a snap general election. We of the TPA are ready for all options but now we stand for the protection of the national government led by the President and the Prime Minister," he added.
Minister P Thigambaram said the national government formed by the SLFP and the UNP should run its full term based on the pledges given by the President and the Prime Minister.
He said it was the duty of the government members to see that it serves the full term. "We urge all members of the government to see that pledge made by the prime minister and the government is kept," Mr Thigambaram said. (Yohan Perera)