---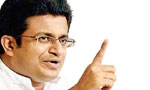 The Pivithuru Hela Urumaya (PHU) today urged the government to ban the Tamil National Alliance (TNA) in order to ensure democracy in Sri Lanka.
Addressing a media briefing, PHU General Secretary Udaya Gammanpila said the TNA was the main opposition of Parliament, and that was the gravest misfortune of the nation.
"The TNA has direct links with the LTTE. Earlier, the TNA virtually functioned as the political wing of the LTTE. The former LTTEers voted for the TNA and ensured its victory in the last elections and the TNA also stands for the rights of the LLTEers," he added.
Referring to a statement made by President Maithripala Sirisena who called TNA Leader R. Sampanthan best Tamil leader in Sri Lanka' s political history, Mr. Gammanpila said it was because Mr. Sampanthan supported government's each and every decision.
He said Mr. Sampanthan was the one and only opposition leader in world history who had voted along with the government for the Budget without proposing a single amendment.
"Mr. Sampanthan stand bias to the government. He has done this several times. Therefore, it is obvious that he should be the best opposition leader to the government," he added.
Video by Sanjeewa