---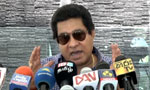 Former minister Mervyn Silva today lashed out at MP Udaya Gammanpila over his remarks that Mr. Silva was responsible for the downfall of former president Mahinda Rajapaksa and called Mr. Gammanpila a parasite.
Mr. Gammanpila is reported to have told a news conference that the behaviour of the twosome Mr. Silva and former MP Sajin de Vass Gunawardena had led to Mr. Rajapaksa's defeat at last year's presidential election.
"It's not me who collected money from people and I don't have corruption charges against me. Their allegation is that I had tied a Samurdhi Officer to a tree. I have already given answers to this allegation. I didn't do it. Had I done it, it would have been for the people's protection from dengue and not for my personal gain," Mr. Silva told a news conference held at his residence.
He said even kings were known to have tied the accused to make a better country. "In Saudia Arabia, they cut off the hands of those who steal to prevent thievery," he said.
Mr. Silva said the joint opposition should have hired a street poet instead of Mr. Gammanpila to hold news conferences.
He said Mr. Gammanpila had also accused him of conspiring to defeat Mr. Rajapaksa some two years ago. "There was no conspiracy but I supported them. I couldn't pledge support since my son was put in jail by Gotabaya Rajapaksa after concocting a case against him," he said.
Video by Sanjeewa