---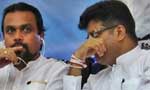 The National Freedom Front (NFF) Leader and Opposition MP Wimal Weerawansa today interpreted MP Udaya Gammanpila, who was on Saturday arrested and remanded, as the first victim of the government's political mission to hunt leaders of the Joint Opposition.
While condemning Pivithuru Hela Urumaya (PHU) Leader Gammanpila's arrest on behalf of the Joint Opposition, he said it was a planned act and alleged the arrest was made on a false complaint over an incident happened seventeen years ago.
He said the government has begun its hunting mission of those who oppose the government.
"This anti-public government has weakened the national security in the country while creating a healthy atmosphere for separatism to raise its head again. On the other hand, the economy of the country is falling down and a heavy tax burden has been leveled on the public. A strong opposition against the government has already formed in the country. Therefore, the government is attempting to silence the opposition leaders who are leading the anti-government campaign with the people," MP Weerawansa said.
He further said that Opposition Leaders like MP Udaya Gammanpila were educating the public about the possible dangerous situation which the country will be facing and that was why the government has attempted to prevent him.
He also called all the parties and individuals who are on the side of 'democracy' to rally together against the political hunt. (Piyumi Fonseka)