---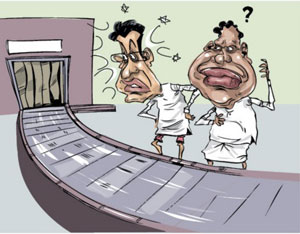 Joint opposition MPs Udaya Gammanpila and Bandula Gunawardane who flew to Geneva found their luggage missing upon arrival at the airport, it is learnt.
The duo, along with MP Dalles Alahapperuma, took wing to Geneva on three different flights to meet authorities of the Inter Parliamentary Union (IPU) headquarteres in Geneva. Mr. Gammanpila arrived first at the Geneva airport and found his baggage missing, apparently not been loaded into the aircraft by port of origin. He later brought it to the notice of the Geneva airport authorities formally.
By the time, Mr. Gunawardane landed, he had excitedly run towards Mr. Gammanpila saying he had found his luggage missing.
Mr. Gammanpila had responded in a lighter vein," You are most welcome to the club of those with missing baggages." Mr. Gunawardane had stacked enough clothes in his hand luggage, but Mr. Gammanpila had left all his belongings in the main luggage that was missing. So, he had to buy everything right down to the tooth brush.
However, the report compiled by the joint opposition to be handed over to the IPU, was in the computer bag of Mr. Gammanpila, saving them from a facing a major dilemma. (Kelum Bandara)