---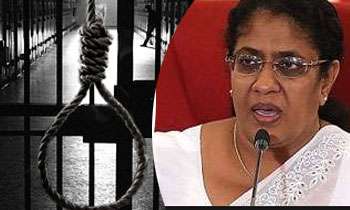 Justice and Prisons Reforms Minister Thalatha Atukorale said the Government was still to make a final decision on implementing death penalty and said more information needed to arrive at a final decision.
Speaking to media after participating at an event in Ratnapura, the Minister said that they need to make an examination of death row criminals' case through the Attorney General's Department before deciding.
Commenting on disbanding of the Welikada Prison Intelligence Unit, the Minister said, she would have to take a decision whether the intelligence unit would continue.
"There is no need for an intelligence unit, if there are drugs inside, if there are telephone facilities," she said.
"I have received a lot of complaints. I still have not taken a decision about what I would do," she said.
Minister Atukorale said that if there was an intelligence unit, it should work according to intelligence information.
Meanwhile, commenting on recruitment of hangman to Prisons Department, she said that several individuals had come forward for the job even without asking a payment. "It's good and no burden to the Government. But we have not take a final decision," she said.(Darshana Sanjeewa)