---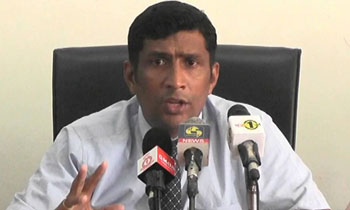 The Government Medical Officers' Association (GMOA) today threatened to resort to major country-wide Trade Union (TU) action next week if the government failed to resolve the issues regarding South Asian Institute of Technology and Medicine (SAITM).
GMOA Secretary Dr. Naween De Soysa told a media briefing that the Health and Higher Education Ministers' actions had forced them to take the decision.
However, he said the discussions they had with the relevant authorities did not yield a positive outcome.
"Health Minister Rajitha Senarathne and Higher Education Minister Lakshman Kiriella have failed to perform their duties and thus compelled us to resort to TU action," he said.
Dr. Soysa said that they expected a wise figure after S B Dissanayake to chair the Higher Education Ministry and alleged that the government appointed Minister Lakshman Kiriella who behaved like a clown.
"Both the present and the former Ministers in Health and Higher Education who were involved in establishing the SAITM had neglected their official duty," he alleged.
He further said the association had to take stern action as it is a timely need to secure the patients' lives which have been risked by the Ministry's' irresponsible behavior.
Meanwhile, Dr. Soysa said proposed TU action would not affect the hospital emergency services and doctors would attend to surgeries on critical patients. (Thilanka Kanakarathna)