---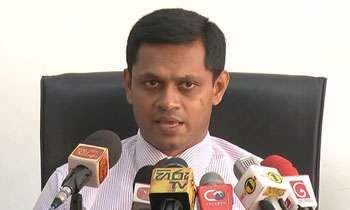 While urging the Government to continue with the ban on Glyphosate, the Government Medical Officers' Association (GMOA) today said fresh laws should be introduced to take stern action against people involved in smuggling in such harmful chemicals.
GMOA Assistant Secretary Dr Nalinda Herath told a news conference that the Customs had today apprehended a consignment of illegally imported Glyphosate which was a banned weedicide in the country.
Dr Herath said today's incident was reported to be the third consignment of Glyphosate seized by the Customs in the last few months.
He added that the importers were engaging in these activities deceiving the Customs.
"It is reported that Glyphosate was imported declaring as Dolomite. The Customs had discovered Glyphosate whereas there is another chemical which had still not been identified," he said.
He said the people who found guilty of importing Glyphosate were released by the authorities for lesser fines and added that stern legal action should be taken to penalize them.
He also said accordingly fresh laws should be introduced.
"The Government had taken an appreciable policy decision to ban Glyphosate. Despite some Government Ministers' requests to lift the ban, the Government should continue with it," he said.
He also said Glyphosate was a causative factor in non-communicable diseases (NCDs) in the country and added that they would be willing to meet President Maithripala Sirisena to discuss the issue and to request to continue with the ban. (Kalathma Jayawardhane)