---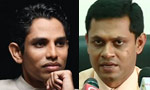 The Government Medical Officers' Association (GMOA) today said it would take legal actions against MP Chatura Senaratne over the derogatory remarks he made against the striking medical professionals.
GMOA Secretary Dr. Nalinda Herath told a media briefing that the GMOA would also complain to Speaker Karu Jayasuriya regarding the behaviour of MP Senaratne.
"The future of Sri Lankan politics is visible from such incidents. Even the parents should pay attention to instill good values in their children despite their family status. As a father, Minister Rajitha Senaratne would also feel the same what I felt as a father. A child should know how to speak to a respected, knowledgeable person. MP Senaratne's statement has tarnished the GMOA's reputation," he added.
GMOA media spokesman Dr. Naveen de Soyza said the statement issued by MP Senaratne was a suppression made on a trade union.
Meanwhile, Dr. Herath stated they had obtained the approval of the central committee to take necessary steps if any misappropriation was included in the list of vacancies for assigning post-internships which was to be amended by the Health Ministry.
GMOA Assistant Secretary Dr. Samantha Ananda said the Health Ministry had agreed to amend the list after the discussion held with them on last Wednesday. Dr. Ananda also said the GMOA finally succeeded in their motive and that succession would result in the well-being of all Sri Lankans. (Kalathma Jayawardhane)