---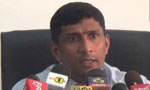 Government Medical Officers Association (GMOA) today warned it would resort to trade union action sometime next week if its demands with regard to the budget proposals were not addressed.
GMOA Secretary Navin De Zoysa said during a special central committee meeting held today, the executive committee was vested with powers to take a decision on any action it deemed necessary.
He said the 2017 budget presented by Finance Minister Ravi Karunanayake was the most unfortunate budget presented in the country's history.
Dr. Zoysa said the proposals to abolish the pension scheme for the new recruits to the State sector, discouraging professionals from remaining in the country, violating fundamental health policies, taking initial steps to privatize the health service and exposing the domestic job market to foreigners would have a negative impact on the State sector and the country.
He said it was also proposed that the Ceylon Tobacco Company should contribute to the presidential fund in violation of the Tobacco Convention of the World Health Organization.
Dr. Zoysa said initial steps have been taken to privatize the health sector by proposing private surgeries, laboratory services in government hospitals and the issuance of a bill to the patients showing the cost of the service.
He said the GMOA had taken steps to bring this to the notice of the President and the authorities concerned. (Ajith Siriwardana)