---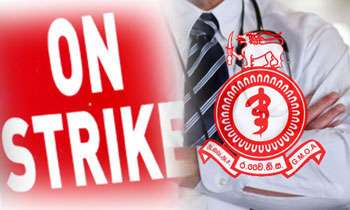 Healthcare services in hospitals countrywide were disrupted today because of the 24-hour token strike launched by the Government Medical Officers' Association (GMOA) against the Free Trade Agreement (FTA) signed with Singapore and the proposed ETCA with India.
National Hospital of Sri Lanka (NHSL) Deputy Director (Cardiology and OPD Services) Dr Cyril De Silva told Daily Mirror that the healthcare services at the Out-Patient Department (OPD) and other clinical treatments were crippled because this token strike.
He said however, the emergency treatment units, emergency admissions, emergency surgeries, nephrology unit and psychiatric unit were functioning as usual without any disruption.
Meanwhile, the GMOA said the countrywide token strike launched at 8 am today was a success and added that however, emergency treatments were being conducted without any disruption.
GMOA Secretary Dr Haritha Aluthge told Daily Mirror that President Maithripala Sirisena had today given them a discussion on May 22 to discuss the controversial FTA with Singapore.
"However, GMOA Executive Committee has decided not to call off this strike because President Sirisena had not given us any guarantee to resolve this issue. Accordingly, the strike will continue until tomorrow morning," he said. (Kalathma Jayawardhane)
Video by Buddhi