---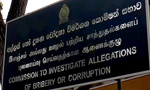 The Government Medical Officers' Association (GMOA) today filed a complaint with the Bribery and Corruption Commission against the Health Ministry for allowing students of South Asian Institute of Technology and Medicine (SAITM) in Malabe to undergo clinical training at government hospitals.
GMOA Secretary Dr. Nalinda Herath said the Secretary to the Health Ministry has allowed a misuse of public property by allowing a private institution and its students who are not qualified to study as medical students to involve in operations in a state hospital.
"We believe that the Secretary to the Health Ministry Anura Jayawickrama has acted in such a manner which is causing a serious loss to the State whilst giving SAITM which is a private organisation an unlawful and unjust gain out of public resources," the GMOA told Ms. Dilrukshi Dias Wickramasinghe, the Director General of Bribery and Corruption Commission.
While noting that the decision of the ministry is an offence in terms of Section 70 of the Bribery Act, the GMOA had requested the DG to inquire into this matter.
They had also claimed that large scale financial loss is caused and is continuing to be caused to the State as a result of the health ministry's 'arbitrary' decision.
Blurb: While noting that the decision of the ministry is an offence in terms of Section 70 of the Bribery Act, the GMOA had requested the DG to inquire into this matter.(Piyumi Fonseka)