---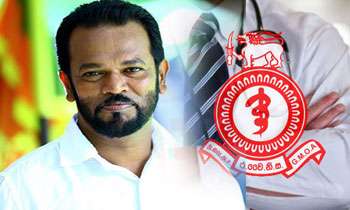 The GMOA today condemned the alleged conduct of Deputy Minister Palitha Thewarapperuma who had sabotaged a disaster preparedness programme being conducted at the Galewela District Hospital.
GMOA Secretary Haritha Aluthge said Sri Lanka was a climate risk country as reported in the media, and the country would experience more and more natural disasters in future and as such it was essential to carry out such awareness programmes.
He said it was inappropriate for the deputy minister to forcibly enter the Galewela hospital and disrupt the programme organized by the Disaster Management Ministry.
"The deputy minister has disrupting the duties of public servants lawfully involved in the programme," Dr. Aluthge said and urged the government to inquire into this incident.
Meanwhile, the GMOA requested Speaker Karu Jayasuriya to hold a workshop to educate parliamentarians on how to act when faced with a disaster situation.
It said Deputy Minister Palitha Thewarapperuma's unruly behaviour during a disaster preparedness rehearsal at the Galewela District Hospital on Friday was a bad precedent to all public representatives.
Dr. Aluthge said apart from the public the MPs should also know about handling a disaster situation.
"Yahapalana was brought to end an administration where government servants were tied to trees and and made to kneel down. Such a dark age cannot let repeated," he said.
GMOA also criticized Minister Duminda Dissanayake for apologizing to Deputy Minister Thewarapperuma for the incident.
"What made Minister Duminda apologise to Thewarapperuma. It should have been the other way round," he added.
Dr. Aluthge warned the deputy minister to keep his business out of the health sector or he will face the consequence. (Thilanka Kanakarathna)
Video by Sanjeewa