---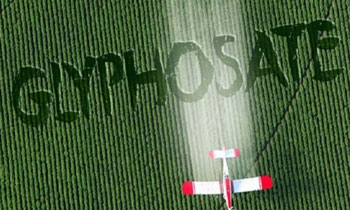 The Government Medical Officers' Association (GMOA) made a statement to the media yesterday expressing concern over Minister of Agriculture Duminda Dissanayake's recommendations to cabinet that the ban on agrochemical Glyphosate be lifted.
Secretary of the GMOA Dr Haritha Aluthge said attempts by current cabinet members to remove the ban were "purely political" and called on President Maithripala to have a proactive dialogue with the association, as well as environmentalists and economists, without making an impetuous decision about the ban.
Dr Aluthge said the Government had a responsibility to uphold its election promise to ban Glyphosate and consideration ought to be taken of the potential environmental, health and economic damage caused by the herbicide.
Whether the ban should remain has been a controversial Parliamentary topic in recent weeks, with UNP's Rural Economic Affairs Minister P. Harrison recently blaming the ban for the party's' failure in the last Local Government Elections. Harrison said the elections were an indication that the Government was "compelled to provide the poisonous synthetic fertiliser".
The Government issued a Gazette notification banning the popular herbicide on June 10 last year, which had the immediate effect of preventing its import and release. The ban was made under a directive of Minister Duminda Dissanayake.
The sudden decision was widely criticised by various stakeholders, including the Planters' Association of Ceylon, which complained that no viable alternative was given by the Government, causing the tea industry to lose over $100 million in the first 18 months following the introduction of the ban.
The agricultural use of Glyphosate is contentious, with academics and researchers divided on whether the chemical had a direct link to the high prevalence of Chronic Kidney Disease of an uncertain aietology (CKDu) in Sri Lanka.
CKDu has killed over 20,000 people predominantly from agricultural regions in the last two decades and its direct cause is still unknown.
The GMOA maintains that that Glyphosate is a causative factor in CKDu and other non-communicable diseases (NCDs) in Sri Lanka, and the pesticide was controversially classified by the World Health Organisation (WHO) as "likely to cause cancer" in 2016.
However, whether glyphosate has a link to CKDu is still unclear, with the World Health Organisation and Presidential Task Force for CKDu Prevention stating in a joint International Expert Consultation in 2016 that evidence of a link between Glyphosate and CKDu was inconclusive.
Professor of Agriculture Buddhi Marambe from the University of Peradeniya said the decision to ban Glyphosate was made without proven scientific evidence of a causal link between it and CKDu, and highlighted that many problems had resulted from the absence of stakeholder consultation throughout the process.
"There is no proper alternative for weed control as such. Yield of important plants such as maize, have been significantly affected by the glyphosate ban," Professor Marambe said.
"When a proven technology is taken away, what is the alternative? There should be a cost-effective and environmentally viable alternative available, especially when it is widely used in different industries. We have to strike a balance in all these cases," he said. (Tilini Rajapaksa)