---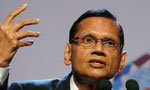 Former External Affairs Minister G.L. Peiris was today questioned for two hours by the Criminal Investigation Department (CID) over his remarks on the recovery of explosives at a house in Chavakachcheri, Jaffna recently.
Speaking to the Daily Mirror, Professor Peiris said though the Government was attempting to sweep the incident under the carpet, the Joint Opposition wouldn't keep mum.
Further, he reiterated that an impartial and a proper investigation should be launched into the recovery of the suicide jacket and explosives.
The former External Affairs Minister, in a recent media briefing said that the recovered explosives were to be brought to Wellawatta. (Piyumi Fonseka)
Video by Buddhi