---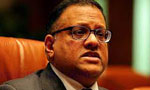 The joint opposition said today the SLFP ministers in the Cabinet should resign without criticizing the Central Bank (CB) bond scam and former CB governor Arjuna Mahendran, who is responsible for the scam.
JO member G.L. Peiris said the SLFP Ministers shouldn't continue to be a part of a Cabinet which was headed by Prime Minister Ranil Wickremesinghe as he was directly backing Mr. Mahendran.
"The Prime Minister took the Treasury under his purview. Then he appointed Mr. Mahendran, a foreign national, as the CB Governor amid objections. Mahendran is only a cat's paw. It's the Premier and other high rankers who are responsible," he said.
Mr. Peiris called for the resignation of the Prime Minister so as at make way for an impartial investigation and said the President should remove Mr. Wickremesinghe if he didn't resign from the post.
Video by Amantha