---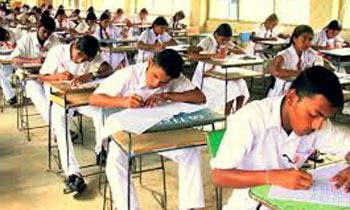 Conducting coaching classes or tuition targeting GCE Ordinary Level Examination students would be prohibited from midnight on December 6 until the examinations end on December 21, the Department of Examinations said today.
Its Acting Commissioner General Sanath Pujitha said organising or conducting subject oriented lecturers, seminars or classes, printing examination oriented papers, distribution and giving publicity via electronic media, posters and banners claiming to provide similar questions to what could be asked during the examination etc. were prohibited five days before the examination.
He said 688,573 candidates will be sitting for this year's examination which will be held at 5,116 examination centres countrywide and everything had been set.
"We are having direct communications with the Disaster Management Centre (DMC) regarding the present rainy weather condition for possible disruptions," Mr. Pujitha said.
Conducting coaching or tuition was prohibited according to the extraordinarily gazette notification no 1927/49 issued on August 12 under clause 22, he said."If a person or institution is suspected to have violated the regulation, complaints could be lodged at the nearest Police Station, the Examinations Department or to the following numbers," he said.
Police Head Quarters : 011-2421111
Police Emergency : 119
Hot line (Examinations Dept.) : 1911
Schools Examinations Organising Branch : 011-2784208 / 011-2784537 (Chaturanga Pradeep)